oagaspar
Site Founder

| | |
| --- | --- |
| Joined: | Sun Sep 4th, 2005 |
| Location: | Akron, USA |
| Posts: | 26573 |
| Status: | Offline |
For the past year many new upstart companies have entered the world of watchmaking that rely on forums and TV shopping show to sell their wares.As this growing trend continues a WIS must ask "where are all the eta's coming from" especially since the production of these very sought after movements are booked until 2010 as reported by ETA/Swatch Group? Below are some answers that have come to me from reliable sources over the past year and through research into this growing problem

ETA/Swatch Group has been aware of their ebauches ie:an incomplete watch movement consisting of the plates,bridges and wheel train minus the mainspring,balance and escapement or also known as a movement blanks being purchased by watch companies in order to calibrate their own movements and many of these companies are well known and much above board.There were also those who bought them and finished these blanks with Asian parts thus appearing the Asian ETA!....these were sub-standard movements compared to a genuine eta and Swatch Group wanted this stopped so we have the current situation as Swatch Group like any other reputable company did not want their product line polluted by these sub-standard movements giving them a bad name.These movements are not to be mistaken for those made in the once ETA factory in China which has since been closed and it is rumored this factory only assembled their much lower line of G-10's and the like and not their more popular automatic movements.The so called Asian eta came about by these individuals who saw a way to profit off of a good name by completeing the movements with cheaper parts and labor,mind you they looked genuine as the ebauches had all the genuine eta markings from the factory.

So today the problem has reached an all time low as the eta market has now been flooded with replica eta movements that have been used in the replica watch industry for years and for the most part all 100% Asian and are likely to be the Hangzhou 6300 which is a clone of the eta 2824 and very hard to distinguish the differnce once they are stamped with the eta markings.These so called eta's are then sold to unsuspecting watch manufacturers as being genuine and then passed on to WIS! They do not come from ETA but from secondary and third sources and in most cases sold directly to the person/company interested in producing a watch.Most of these individuals have entered the watchmaking business with no watch knowledge and truly believe they have found the impossible but there are those who know very well that they have bought either a replica or a non 100% eta due to the price of these movements and knowledge that the marketet has dried up to all but the very large and well known watch manufaturers and Swiss contractors.

Below is a post from TZ a year ago and now resurfacing on the forums.It shows a good way to tell a fake or non original eta from the genuine article and should be bookmarked by all WIS as this trend has increased.The talk of the Asian eta 1st surfaced about 5-6 years ago and today it is an epidemic we must all be aware of as many of the new upstart companies are using these 100% Asian replicas or non-100% assembled etas either knowingly or just blinded by shear lack of knowledge and belief they have found the golden egg.Choose your Swiss Made and Swiss movement watches carefully and ask questions before buying as these companies rely on the forums for sales.A safe bet is buying from a company that is reputable and has built strong alliances with their respected manufacturers for example companies building watches through Fricker Co. in Germany or one of the larger Swiss houses who are on the direct ETA list and rely on well known brand names who have been around for years to centuries.Don't be fooled ...know what movement is in your watch and ask these new companies where they are getting their movements from...be an eduacated WIS as watchmaking has reached a new day and we must be prepared.


One of the problems was caused by an incorrect length screw protruding through the mainplate and interfering with the balance wheel assembly causing excessive end shake and problems in the keyless works. As the movement had been purchased as 'brand new' it either had come from the factory like it or been worked on previously.

However, it turned out that what I had in front of me was a cloned ETA movement or maybe one that had been worked at some stage to become an ETA movement with a blank ébauche and cloned parts… Either way its almost 99% certain this movement did not come from ETA.

I'd read about these movement on other forums but had never seen one before, so a little digging about confirmed what I had and that there seems to be more and more of these appearing…they are also not limited to the gilt one shown here but the nickel plated ones are also now appearing.

So how do you spot one?

What follows is not definative but does tally with the information I've dug up about these movements.

From my investigations and from comparing this one to the many ETA 28xx housed watches I have these are some of the points you can use to identify them: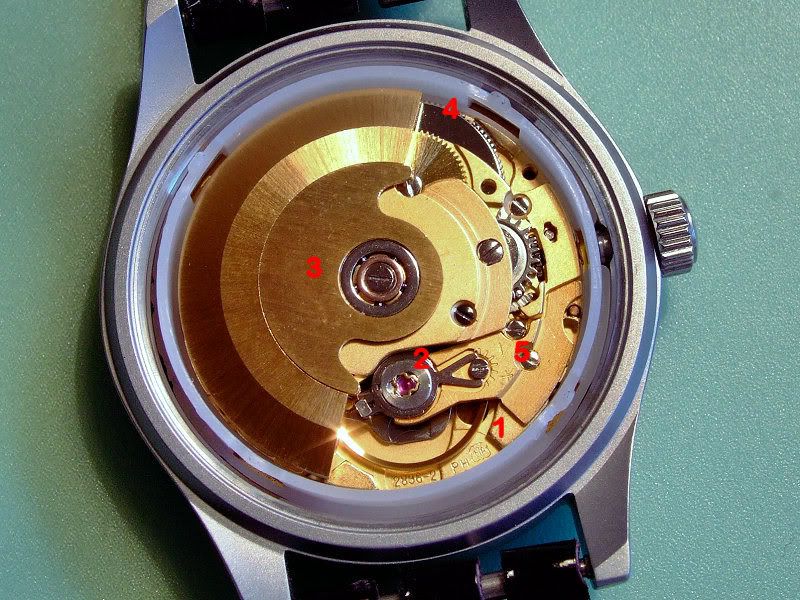 1) Check the ETA logo, the clone is poorly shaped, where the gen is more shaped and clear.
2) Check the Novdiac shock housing, the gen has three cutouts the clone just one.
3) The gen has 25 Jewels engraved on the rotor, the clone either has a sticker or nothing
4) The Barrel is polished on the clone, brushed on the gen.
5) The regulator markings are shallow on the clone with the + hanging on to the edge, on the gen they are deeper and clearly etched.

In more detail on three of the above:

Clone logo:




Gen logo:




Clone shock housing:




Gen shock housing: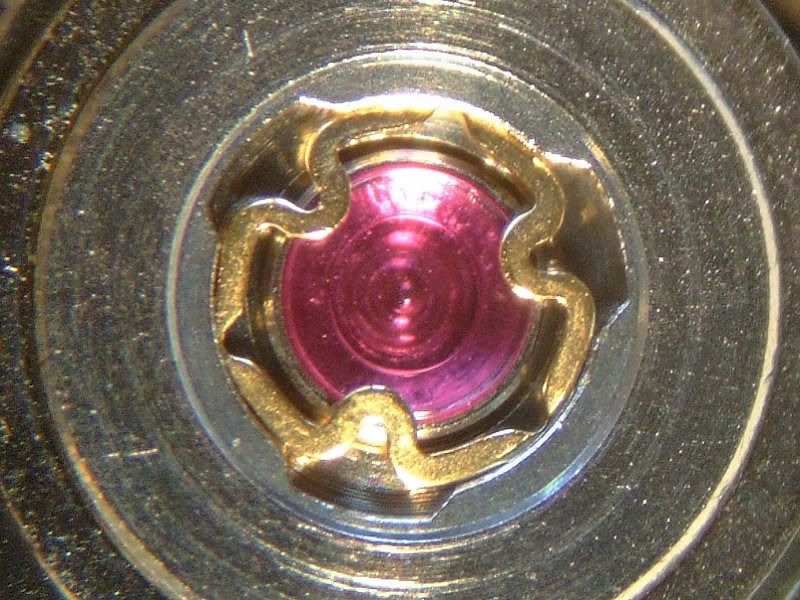 Clone regulator markings: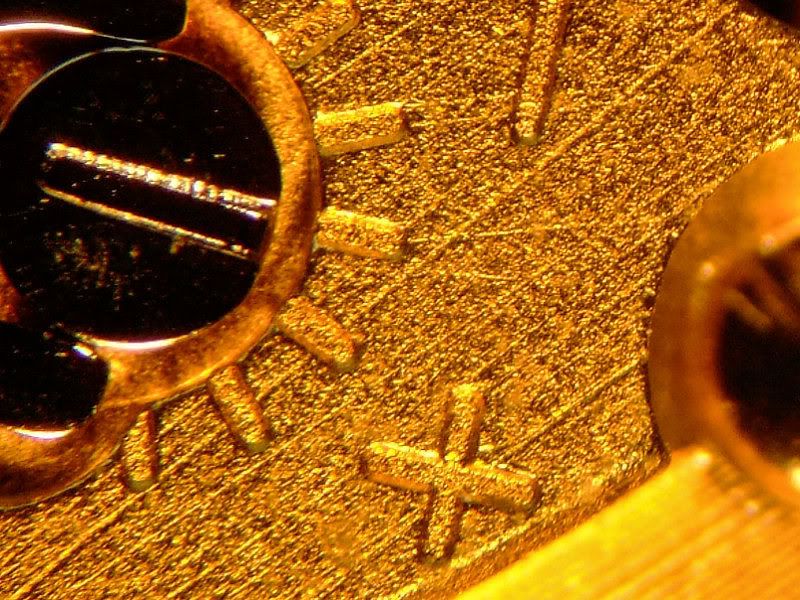 Gen regulator markings: