IanM
3T WIS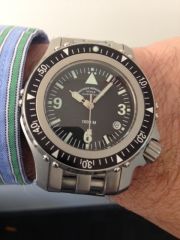 | | |
| --- | --- |
| Joined: | Sun Apr 15th, 2007 |
| Location: | Perth, Australia |
| Posts: | 1268 |
| Status: | Offline |
What a great project, Scott.

I would love a 57 with a Paxton supercharger and decent motor... the foundations on this one look pretty solid, and the history might be verrrrrry interesting! They had a 3-speed, didn't they? Raven black is the go - 'cos originality pays when it goes to the Barrett Jackson auction rooms...

New porthole tops are pretty easily available in the US, from what I know (given that I live in a country where a barn find like this is almost unimaginable...) but what a great opportunity, mate!

Have fun, and keep us posted on what will be a heck of a lot of work, but really satisfying in the end.

There goes that watch fund...


(a very envious!) IanM