IanM
3T WIS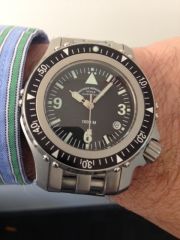 | | |
| --- | --- |
| Joined: | Sun Apr 15th, 2007 |
| Location: | Perth, Australia |
| Posts: | 1268 |
| Status: | Offline |
I am with khronos - too much going on with this one, and there's too much going on with the UN Maxi Marine in RG, too, IMHO.

Maybe if they did a sterile dial version of this one...


I am just not hangin' with Gucci stuff these days. If it were another manufacturer's brand, I wonder if we might consider it? UN seems to do quite well with its iterations of the MM despite it being too "busy" for my tastes!