OldeCrow
3T WIS

| | |
| --- | --- |
| Joined: | Sun Feb 26th, 2006 |
| Location: | Oregon, USA |
| Posts: | 2897 |
| Status: | Offline |
Thought this was deserving a new arrival post.

From the website:

Borealis Bull Shark Automatic Diver Watch with Miyota 9015 Specifications:
Case Size: 42mm x 50mm
Screwed down crown
Double Domed Sapphire Crystal with A/R coating inside
Helium valve a 9 o'clock
120 clicks unidirectional glossy ceramic bezel with BGW9 lume applied to indexes
Miyota 9015 Automatic Movement
316L Stainless Steel Case
Lug Width: 22.00 mm
Water Resistance: 2000 meters
Viton gaskets on case back and tefzel gasket for glass
Case height: 14.05 mm
316L Stainless steel bracelet with precision adjustable buckle
Swiss Made BGW9 Superluminova applied to dial, watch hands and ceramic bezel
Gilt hands (hours, minute, seconds)
Screwed Case Back with engraved mermaid
12 months warranty


Everything is as advertised, at 41mm it wears well on smaller wrists but it still has a large presence so it should wear well on large wrists too.

I am finding I really don't care for domed glass, it is just distracts and obscures the dial no matter how well executed it is, that said it's easy for me to overlook it as nice as the whole watch looks with it.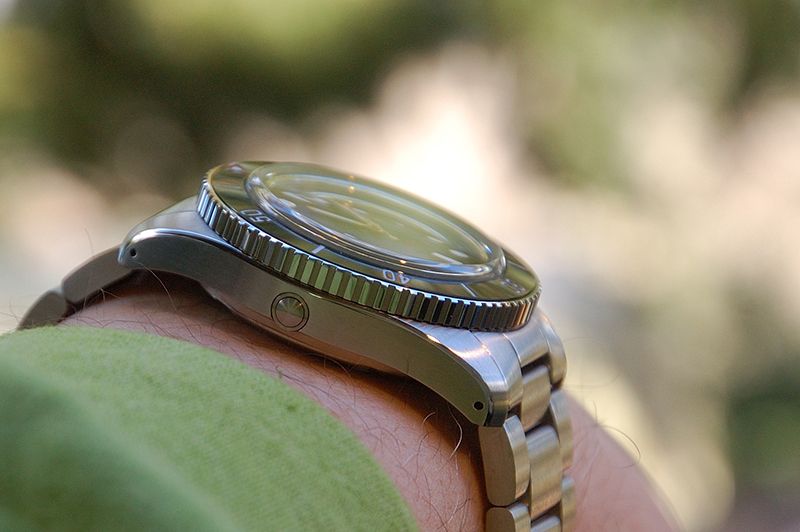 This one arrived with a very loose bezel that could be removed with the slightest pressure a quick inspection revealed the retainer spring was just not properly formed so with a little tweaking with a pair of pliers the spring now grabs the case firmly and now the bezel cannot be removed by hand.




Thinking about how that got by any QC it occurred to me that I don't ever pull on a bezel intentionally so it would easily pass QC as long as it clicked and rotated.

On the plus side having had the bezel off I was able to observe the bezel is made very much like a Seiko bezel with a nylon gasket to smooth the bezel action though the addition of a retaining spring is not usual for Seiko's the retaining spring is probably a better choice for long term fit since it can be replaced when the bezel starts getting sloppy and it has a Seiko style click spring.

I really like this case shape and size, it's smaller than my Armida "A-whatever" and without the crown guards it is a little reminiscent of early skin divers. The coin edge bezel is 3mm tall and is very well finished and easy to operate, it clicks firmly and precisely.

Bracelet fit and finish is is precise and the end links are well fit to the case, I would prefer the bracelet links were finished with softer edges but I can soften the edges myself. The Citizen style clasp with divers extension is well made and functions well. This style clasp is often very poorly imitated but in this case it's very well done.




The dark green ceramic insert and dial are very nicely finished with decent lume though not quite as bright as other offerings from Borealis it is however persistent and visible all though the night.

The Miyota 9015 is running about +9sec/d face up with an amplitude of 310 and a beat error that is exactly zero. I am really amazed at the out of the box performance of the 9015.

I frequently point out the 9015 is my new favorite movement I will choose it over ETA movements from Micro brands and in fact I have passed on interesting projects from Micro's because they were using ETA or Seiko. I believe the Micro's are using ETA and Seiko because it is what they think buyers will want but I think it's the Watch makers job to lead the dumb masses to make better choices and to that end I am disappointed to see Seiko and ETA in watches that really would be better with the Miyota.

This is my second Borealis and I am very pleased with both of them, they are distinctive enough to escape the catalog case feel even though they are but that is precisely what makes them as affordable as they are.

I probably wouldn't have mentioned the loose bezel but I am seeing a lot of these for sale on the forums and can't help but wonder if everyone is having this problem and not saying anything so I mention it only to point out how easy it is to fix.