Michael 808
3T WIS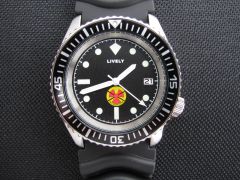 zippofan wrote: I managed to grab a '031 a few months ago, plus some parts from Harold (Yobokies). Now I'm thinking of keeping the dial stock but putting in a set of MKII Mercedes hands I bought for another project to go for a subtle 'sub' mod.

BTW, where did you get the bezel, and the strap too, looks great on the 31!

I think the stock dial is awesome so I agree with your decision to stick with it. I've also got some Mercedes hands that I've thought about using, they look great on these projects. I'm sure you know about using eta hands on the seiko movement, sometimes the minute hand works and sometimes they don't. The seiko minute post is actually a .89 where the eta is a .90. You may have to give the .90 a little squeeze to tighten the hole up a bit.

I got the bezel insert from Noah at 10watches, it's of great quality. And the strap is a timefactors silicone strap, some don't like silicone but I really like this strap, it's not real long so if you have larger wrists (over 8") it may be too short. The saphire is a worthy investment if you have a press, my poor photography skills failed to capture it but it really compliments this watch well.